This article contains the Top Tippers of the Year, Chuck Gorley who won Top Tipper of the Year and David Korcz who won Outside Tipper of the Year. To read Chuck's, scroll down or click here. To read David's, scroll down or click here.
Top Tipper of the Year – Chuck Gorley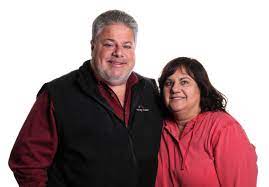 My wife and I own a direct mail company Money Mailer, we do advertising and printing. We have been in business since 2006. We do not take the standard approach to advertising or printing. We are consultants, not salespeople. We create relationships with our clients and when they need help, we are there for them. We are the largest Money Mailer franchisee in the country and a large printer in San Diego. We thrive on customer relationships. We have been members for I BELIEVE 7-8 years. Our group is a very vibrant group that you cannot come in and just sell. You must help them grow their business before the members will help your business. So, we go out of our way to do whatever we can to help other members of the group.
A few things that helped me give so many Tips is that I constantly share stories about our members, to my customers and friends. I also use many in the group on a regular basis. I believe in doing business with those that do business with us. So, I am always looking for ways to grow the LeTip family of businesses and, thus, produce many Tips.
Get to know the other businesses in your group and the owners of them. They will become more than a business to you, they will become friends. Friends try to help other friend's businesses to grow. So, the better relationship you have with each other the more business you will get.
I am enjoying my participation with LeTip and it has been integral to the growth of my business.
Outside Tipper of the Year – David Korcz
Licensed as a CPA since 1989, I worked in regional CPA firms from 1987 to 1995 and ran the accounting and finance departments of companies in the manufacturing, distribution and technology sectors from 1995 until 2014. During that 26 year period I was building my own book of business, and in 2014, when the opportunity presented itself to "hang out my own shingle" I did. It's been an exciting 7 years and business continues to grow through the help of my Le Tip Chapter (I was a charter member in August of 2019).
I've been married for 33 years to my wife Amy (an attorney) and we have two adult children. Our daughter Alexandra works for a publishing house in NYC and our son Daniel
works part time as a paralegal and assists in my office as well. When I'm not doing accounting work, I am a black belt in Karate and collect too much sports memorabilia.
During my 19 year run in the Controller/CFO seat, and in building my practice, I have always strived to be a resource for my clients and friends, which makes me successful with Outside Tipping. I'm always listening to see how I can help them, preferably with one of my other clients, friends and my LeTip Chapter members. Several times during the chaos of a busy tax season I will be sitting with a client a need will present itself, I call my LeTip friends on the spot and put them on the phone with my client, or if my client does not have the time to chat, I enter it on LeTip wired. Some of the success comes from actively listening to your clients and finding pain points where your friends can help them. With several hundred
individual tax clients someone always has a need for a product or service that someone in my chapter can provide.
Focus on your one-on-ones in your chapter this way you can understand who everyone is looking to meet as their "Perfect Tip" and your Outside Tips will begin to flow. Sometimes you have to get outside of your comfort zone and connect people. Givers gain and it all comes back when you help your fellow LeTippers and your clients/friends/family members.
Click here to return to the full listing of all 2020 LeTip Award Winners