Anaheim, California was Orange County's first city, incorporated in 1870. The city was named after the Santa Ana River, nearby. "Heim" is a German word, meaning "home", and thus we have "Ana-heim". It is known for being the home of the Disneyland Resort – it's top employer with around 23,000 employees. It is also the home to the LeTip of Anaheim chapter. Founded in Fall of 2021, LeTip of Anaheim is a growing chapter with 19 members. Recently, we had a Q & A session with chapter president, John Ortiz, who holds the seat of Insurance Life, Health, & Disability for the chapter.
Q: How do you envision the chapter one year from today?
In a year from now, I envision LeTip of Anaheim to continue to be a growing collaborative enterprise of networking professionals that disrupts the status quo and builds stronger ties in the North Orange County business community.
Q: Are there specific objectives the chapter is concentrating on to finish 2023 on a high note?
Our "high season" is from February through October. This is the time that we are aggressively attracting business for our members. We focus on our networking events in order to generate business and evaluate new members.
From November through January, we work on our fundamentals, and we give our members the opportunity to attend holiday work parties and end of the year celebrations that typically take over this part of the year. Plus, we have our Christmas Party for members and invited guests.
As for specific objectives, I would like to end the year off with 24 members, $5 million in gross sales, and the least number of white badges possible!
Q: What sets your chapter apart from other business networking groups?
We encompass all the traditional experiences of a networking organization, like 30-second commercials, exchanging business cards and enjoying lunch with your fellow members. Most organizations would think that would be enough; we don't.
We push the status quo to attract individuals with entrepreneurial spirit. We organize networking events, such as our annual OC Business Expo in October, monthly After Work Mixers, and Member Spotlights to attract new clients, partners, and vendors for our members. We leverage our power partnerships to create these business opportunities.
Joining us is akin to having a dedicated PR Team, actively promoting events that will generate valuable referrals for your business!
Q: Would you like to share any member success stories?
Here is a great story!
Jose Solorzano (Screen Printer) stumbled upon our After Work Mixer advertisement on Eventbrite. He was ready to come that he arrived a week early! Undeterred by the mix-up, he eagerly returned the following week and actively engaged in networking at the March and April mixers. His experience exceeded his expectations, and it prompted him to join LeTip of Anaheim in May 2023. In his first 30 days, he secured two orders and quoted a recurring order worth six figures! Jose is one of our most enthusiastic members and he is confidant joining LeTip of Anaheim can help any business owner! He owns a full-service brand marketing production company where his team designs, sources, screen-prints, and creates great promotional apparel for businesses, entertainment industry, and celebrities.
Q: Do you have any great power partnerships in your chapter? How do they work together for success?
Our success stories all revolve around our power partnership strategy. A power partnership is created when members with complimentary products or services work together to develop business for each other.
Here are a few success stories:
Adam Baker (Merchant Card Services) and Johnny Puentes (Internet Service) have a major thing in common. A significant amount of their business develops from businesses moving into new locations. Whether the business is a start-up or an experienced business with a new location; merchant card services and internet are fundamental services these new businesses need. Johnny and Adam tag-team together when visiting shopping centers and they make introductions to their clients to help each other out. This power partnership is worth over $1,000,000 in sales!
Caroline Witham (Residential Realtor) and John Ortiz (Life Agent) are power partners. I have a unique solution for real estate agents that guides homebuyers on effectively reducing their debt-to-income ratio within their current financial budget while safeguarding their down payment funds. Caroline realized how my solution could help her create financially stronger homebuyers, increase the efficiency of closing more home sales, and reduce 30-year mortgages to less than 12 years! Our first power partner event is happening within the next 30 days!
Sean Faust (Employee Benefits) and Kevin Walheim (Commercial P&C Insurance) both work in the insurance industry. Kevin has a remarkable success rate of reducing a company's workers' compensation premiums by up to 50%. Sean has an amazing portfolio of insurance carriers and technology that enables him to save his clients up to 30% on healthcare costs. Sean and Kevin realized that working together delivered a greater savings for their clients. 2024 is going to be an outstanding year for this power partnership!
Q: Do you organize any additional chapter events, whether virtual or in-person, apart from the weekly meetings?
There exist numerous "conventional" business networking groups that adhere to a standard routine of delivering 30-second pitches, exchanging business cards, and sharing breakfast or lunch during their networking sessions. Now, envision an individual who's keen on becoming part of such a networking group. How can they discern which group aligns best with their needs? Which group delivers the most substantial value? Which one is likely to generate the highest volume of referrals? Ultimately, the challenge lies in finding the one networking group that stands out as the ideal match, offering the experience and opportunity amid the multitude of "conventional" options.
We recognized that in order to establish ourselves as a formidable networking entity, one that attracts top-tier talent, we needed to center our focus on enhancing the member experience and fostering valuable opportunities. We incorporated some of the customary features found in traditional business networking groups, such as the 30-second pitches, business card exchanges with guests, enjoying a satisfying meal, and making exclusive use of LeTip Wired for member communications. Where we distinguish ourselves from every other business networking group is through our exceptional events! Our offerings include an annual OC Business Expo, a monthly After Work Mixer, and a Member Spotlight; these events are open to the OC business community, designed specifically to draw in potential clients, partners, and vendors for our members. Our weekly Networking Meeting is strictly by invitation, and we are selective in accepting visitors.
When a member or prospect compares their experience and opportunities with LeTip of Anaheim to the myriad of "conventional" business networking groups, it becomes abundantly clear which option stands out. In 2023, the paramount focus is on providing an exceptional experience and facilitating valuable opportunities.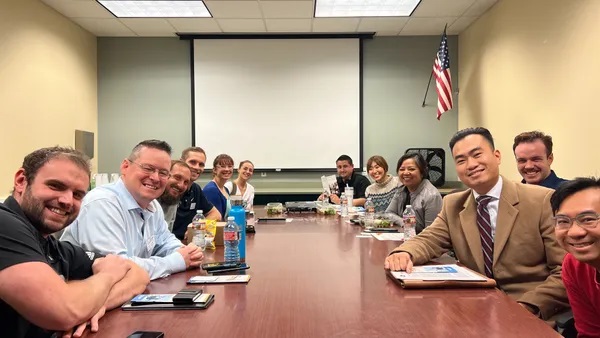 Thank you, John Ortiz! We appreciate the time you spent with us and we look forward to watching this LeTip chapter hit its goals for productivity and growth.