Our Inaugural East Coast Power Event held on October 16 through 18th in Atlantic City, NJ. The goal for this event was to bring our East Coast members together and encourage further networking, gain knowledge and most importantly, have fun!

(Pictured above: Paul Della Valle, East Coast VP)
Wednesday night consisted of initial gathering and cocktail hour introductions. Our main day, Thursday, was jam packed with energy and excitement. There were over 20 awesome Showboaters who came from New York, New Jersey and Pennsylvania. Planning and bringing the event together was our East Coast VP, Paul Della Valle. Our main session was hosted by our MC, West Coast VP, Doug Christian. We had introductions, awards and a great main speaker, Erick "Mr. Awesome" Swanson, a nationally known speaker who talked about creating habits along with a great attitude to have success "Habitudes"! Wow was the energy up in the room during this speech. One great take-away for members was a simple 4 letters that everyone received on dog tags – NDSO "No Drama Serve Others".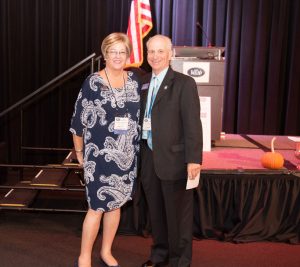 (Pictured above: Kim Marie, CEO & Ken Rubinetti, East Coast Area Rep)
Morning and afternoon breakout sessions led by LeTip members were a huge success. The breakout sessions included:
• Kim Marie Branch-Pettid – Intro to B.A.N.K.
• Scott Bliss – Advancing Opportunities & Defining Success (breaking comfort Zones)
• Dr Gary Wong – Building more productive chapter relationships & Why are you in LeTip?
• David Faccone – Growing your business, tipping & chapter using Facebook
• Lori Anne De Iulio Casdia – Breaking our own barriers & Fresh look at 30 second commercials
• Rick Levine & Michael Barba Sr – Recruiting Eagles & Showing the Value when closing Guest
• Michael Goldstein – Maximizing Your ROI in LeTip $$$
• Mick Carbo – Master this 1 Skill & "Put Dollars In Your Pocket"™ – How to Maximize Your Membership
• John Pokorney – LeTip Wired
Members shared ways to improve your own business as well as way to improve tipping, membership, and social media. During the evening, LeTip members showed off their talents in the LeTip Talent Show, thank you to Gabe Schick and Renee Rawcliffe for the awesome talent and courage! A professional comedy show kept us laughing through the comedy hour. Friday wrapped up the event by having our first ever multi-chapter, multi-state chapter meeting run by Kim Marie.
We are so happy with the outcome of this event and the feedback we received. Thank you to all our members who came from near and far. We look forward to continuing to bring value to your membership and making inter-chapter networking possible.
Thank you for our Event Sponsor Michael Goldstein from LeTip or Westside Referrals Network, CA.
Awards Presented:
• LeTip of Ronkonkoma, NY – Outstanding Achievement award for charting on the chapters founding date
• LeTip of Freehold, NY – Award of Excellence as chapter most using LeTipWired
• Brian Jolles – Outstanding Loyalty Award
• Brian Jolles – Award of Excellence as a LeTip Goodwill Ambassador
• Rick Levine – Award of Excellence as a LeTip Brand Ambassador
• Michael Barba Sr – Award of Excellence as a LeTip Brand Ambassador
• Josh Waters – Recognition Award for being LeTip's premier guest inviter
See below for pictures by Celestina Ando, Upper Montclair LeTip Photographer: